20 de diciembre de 2013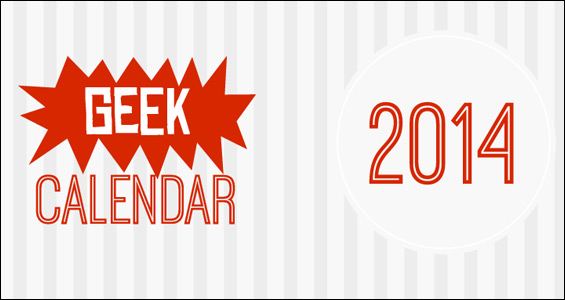 Year 2014 Calendar with the main geek celebrations, made by Hostalia.

Copy this code to embed this infographic on your website
JANUARY
January 2: Birth of Isaac Asimov
January 24: Release of the first Mac
FEBRUARY
February 4: Zombie Pride Day
February 12: Darwin Day
February 22: World Thinking Day
MARCH
March 14: Pi Day
March 20: International Day of Happiness 🙂
March 25: Tolkien Reading Day
March 31: World Backup Day
APRIL
April 22: Flowerpot Day
April 27: Morse Code Day
MAY
May 4: "May the Force…" Star Wars Day
May 17: International Internet Day
May 25: Geek Pride Day
JUNE
June 21: Go Skateboarding Day
JULY
July 1: Walkman Anniversary
July 13: Hug a Geek Day
AUGUST
August 31: International Blog Day
SEPTEMBER
September 13: Programmers' Day
September 19: International Talk Like a Pirate Day
September 25: Webmaster's Day
OCTOBER
October 9: World Email Day
NOVEMBER
November 19: World Toilet Day
November 21: World Television Day
November 30: Computer Security Day
DECEMBER
December 15: Zamenhof Day (Esperanto Day)

Share this geek calendar on WhatsApp
scanning this QR code / BIDI with your mobile.
Copy the URL and paste it on your
social media apps.
Comentarios
2 comentarios